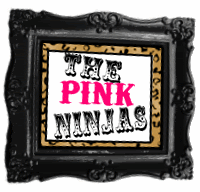 Oooohhh Yeeeaaahh!!!!,,,,our first born is up and ready to rock twenty ten!!!~we wanted to start the new year with a fresh new start! so we have a new freaking awesome design created by this
girly
,
brand spanking new inspirations that are gonna blow your mind, and last but not least,,a brand spankin new design team!!! We have also created an art walk for this blog!! this is a place where we can showcase the creations created by everyone that plays along! We love you so much for playing along that we want you to have your own little spot in our ninja family!!! I cannot tell you how beyond excited I am about this!! I feel so warm and fuzzy inside and I cannot wait to see what our awesome girls are gonna create!!! It's gonna be such an awesome year!! I can feel it! Hop on over to the
pink ninjas blog
, check out our girls and play along with us!
I heart all of you~nely!